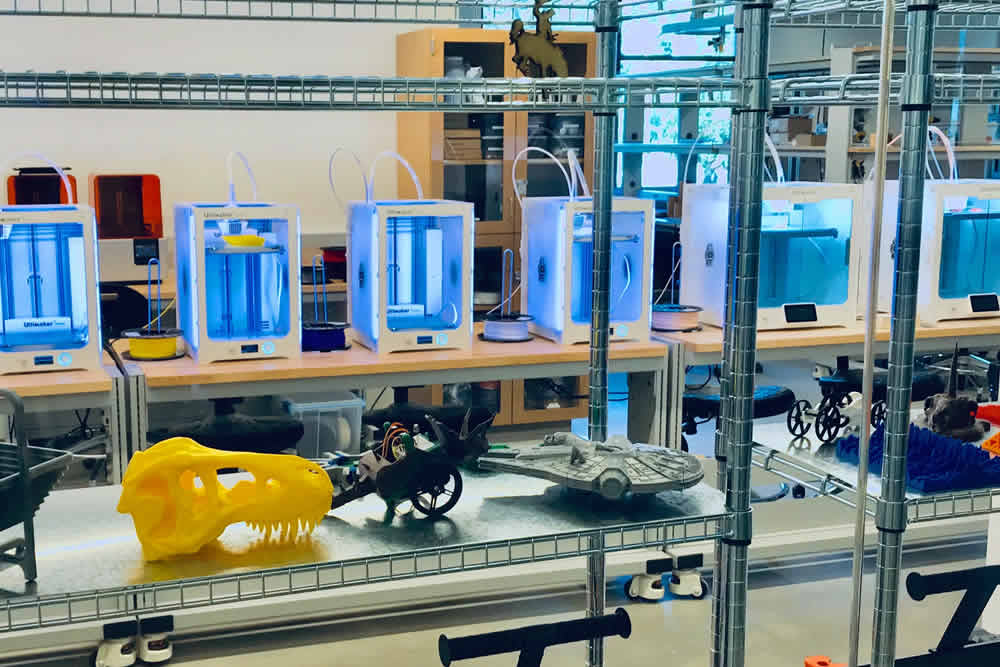 Dive into 3D printing
Located in the ITC, 1710 E. Sorority Row
Opens in new window

:

3D-Printing is available to UW students, faculty , and staff on a first-come, first-served basis.
Steps to Use the 3D Printer
Save 3D file(s) as a ".obj", or ".stl" format. The ".thing" format for MakerBot printers only,
Choose desired finished size (in inches), and filament color,
Files sizes are limited to 50mb or smaller as attachments in the online 3D Request form.
Larger files need to be delivered to the ITC Service Center (ITC 160), M-F, 9am-4pm, or the ITC Front Desk M-F 8am-4pm,
Printing Charges are for for material: $.40 per gram, rounded to the nearest $0.25,
After files are received printing time cost estimates will be provided based on desired finished object size and resolution.
Additional Notes
Printers use ".stl", and ".obj" files,
When creating projects, please consider that some assembly/cleanup will always be required. Additionally using PVA (water-soluble material) will take at least an extra day to dissolve the supports. Using PVA also limits a print to a single color.
Use a 3-D CAD model from SolidWorks, Google SketchUp, or similar program, to create the ".stl" file required,
Maximum build volume 8.7 x 8.7 x 11.5 inches for single color prints, and 7.8 x 7.8 x 11.5 inches for dual color,
Current materials are PLA.
Print media colors may include: black, white, clear, gray, orange, green, yellow, blue, purple and brown.
More detail on current installed 3D-Printers: Ultimaker 2+ , Ultimaker 3 and Ultimaker 3 Extended.